WELL-BEING RESIDENCY NETWORK
ADULTS WITH GENERAL LEARNING DISABILITIES
Two artists, one from Finland and one from Sweden, were recruited for a residency try-out in Ranua, Northern Finland. The artists worked in a small unit for adults with general learning disabilities in September 2019.

The Niittyvilla unit had recently moved to a new location: an old village school. During the residency, the artists worked together with the customers and staff with the goal of introducing the unit and the institution to the surrounding community.

Read more from the >> recruitment announcement.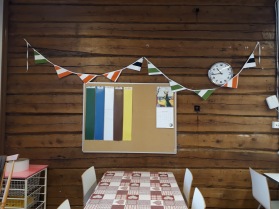 The residency was conducted during an intensive period of two weeks. During this unusually short residency the artists, customers and staff created several artworks together, using mostly recycled materials.

All the works examined the theme "About me". The purpose was to create individual encounters between customers, staff and artists, and to bring the customers' unique personas to the limelight.

The residency culminated in an outdoor exhibition that was presented to the public during Ranua Art Night on the 14th September 2019. Numerous visitors showed positive interest in the artworks and their creators.

Feedback from customers and staff during and after the residency was overwhelmingly positive. Plans of continuing artistic work in the unit are already in place. The residency was also an eye-opener for the artists and has given them, as well as the organisors, heaps of inspiration and new ideas for future projects.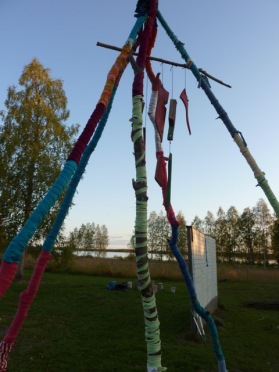 Hanna-Leena Metsävainio (Drama instructor)
Eeva-Leena Väätäjä (Visual artist)